CCJ Indicators rounds up the latest reports on trucking business indicators on rates, freight, equipment, the economy and more.
---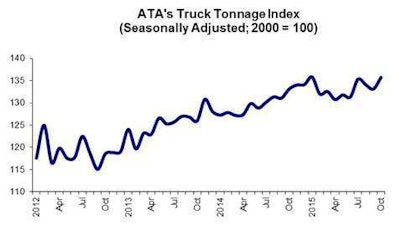 Tonnage hovers near all-time high: The amount of freight carried by the U.S. trucking industry, as measured by the American Trucking Associations' monthly Truck Tonnage Index, climbed 1.9 percent in October from September, ATA reported last week.
The index's reading is still just a few points shy of the all-time high reached in January of this year. It also was 2 percent higher than the same month last year. Year to date, however, tonnage through October was down 3 percent, ATA says.
"Like I've said over the last couple of months, I remain concerned about the high level of inventories throughout the supply chain," said ATA Chief Economist Bob Costello. "We recently learned that inventories throughout the supply chain and relative to sales rose in September, which is not a good sign. This will have a negative impact on truck freight volumes over the next few months," he said.
---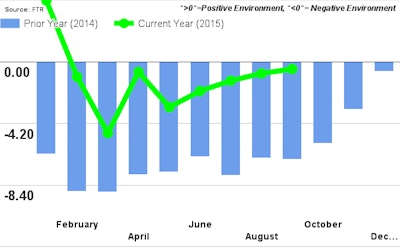 Conditions for shippers 'benign': Market conditions for shippers in September, per FTR's monthly Shippers Conditions Index, shows a neutral reading, says FTR, calling current conditions "benign." The index is expected to reflect more negative conditions, however, for the final months of 2015 and through next year, FTR says, when carriers begin to capitalize on market conditions to raise rates.