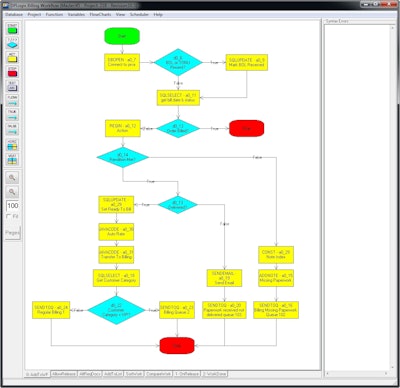 McLeod Software is releasing Version 15.2 of its LoadMaster Enterprise and PowerBroker software systems as well as Version 15 of its DocumentPower Enterprise and FlowLogix business process management software.
As part of the new product releases, the company expanded the core capabilities of the following tools:
Rapid Alert Notification System (RANS) that detects critical events and sends instant electronic notifications to the appropriate people when they occur. RANS is now able to notify the right people when expected events have not occurred with its new Overdue Events function.
McLeod says its customers using the LoadMaster and PowerBroker systems can now define the time at which any specific event is considered overdue and who should be notified.
The FlowLogix workflow management tool is used to create custom business process automation within the LoadMaster and PowerBroker systems. It gives managers the ability to monitor and measure the business processes managed in the workflows, as well as individual employee performance in their assigned tasks.
Included in the new release is Logix Solutions, a set of pre-packaged business process automation solutions built with FlowLogix and Logix eForms. This growing family of products now includes e-Rate confirmation, Billing & Settlement, and Advanced Billing & Settlement, with more products on the way early in 2016.
Private Notification Network (PNN) module has new version of its Available Loads function, which makes selected loads visible to the broker's existing carriers via an e-mail. This new version makes it easier for carriers who are offered loads to simply click on a link in the email and be directed a specific dispatcher, based on lane-specific definitions for that load, or geographic zones that the user can define.
PNN also stores each carrier's preferences for the types of loads and specific geographies or lanes they prefer to work in. Brokers can specify lane types by state, dispatch zone, zip code range and market area. Mixed lane types are also now supported for a carrier. And a new "exclude" option makes it easy to list the places a carrier does not want to travel.
KSM Benchmark Report is now built into the base system for McLeod customers, making it easy for any company who wants to participate in the survey or benchmark their own operations performance and measure changes year over year.
For the past two years Katz, Sapper & Miller (KSM), a leading trucking industry CPA and Consulting firm, has partnered with McLeod Software to produce a Trucking Operations Benchmarking Survey, based on data covering 215 data elements measured over a calendar year for a large number of U.S. based truckload carriers.