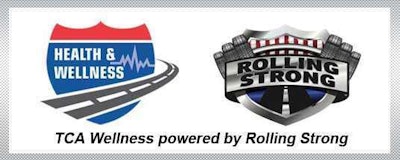 The Truckload Carriers Association, along with Rolling Strong, will launch a new driver wellness program in January.
TCA Wellness, powered by Rolling Strong, will provide participants with access to health-check stations across the country, annual screenings, and a driver-centric mobile app with nutrition and exercise guidance.
"The studies are alarming…drivers are gaining weight, not exercising much, and developing serious problems like sleep apnea and diabetes," said Keith Tuttle, TCA's chairman. "This, in turn, undermines their ability to work, meaning less money to provide for their families. From the trucking industry's standpoint, it means fewer drivers and more recruitment costs. We see Rolling Strong as an innovative solution; their approach not only boosts driver health and fosters driver-retention, but also delivers an unprecedented return on investment for users."
The baseline program will cost TCA members less than two dollars per driver, per month. Non-TCA-members and state associations are also welcome to participate, at a slightly higher cost.