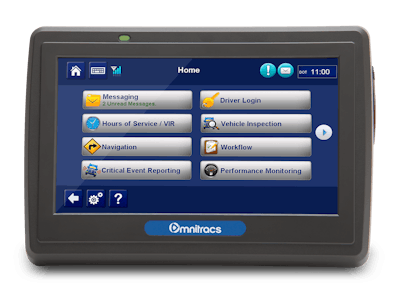 Omnitracs announced that its mobile computing platforms will now have the option of being equipped with Drivewyze PreClear Weigh Station Bypass services, which make commercial truck drivers able to bypass weigh stations up to 98 percent of the time depending on the operators' safety scores.
"Omnitracs customers no longer have to rely on separate, cumbersome transponder-based systems if they want to leverage their safety records to reduce the amount of time their trucks needlessly spend at weigh stations," said Andrew Kelley, Omnitracs' vice president of corporate development.
Drivewyze uses GPS technology and the mobile Internet to add transponder-like functionality to mobile devices. The Drivewyze service is available at 611 fixed weigh stations and mobile inspection sites throughout 35 states.
Recent Drivewyze data suggests that drivers are three times more likely to choose to work for a carrier that equips them with a weigh station bypass service, and that 65 percent of drivers are more likely to stay with a carrier that provides them with company-paid weigh station bypass as a benefit.
"Through this partnership, Drivewyze will be compatible with the large majority of trucks that are on the road today and currently equipped with electronic logging devices (ELDs) and other in-cab technologies," said Brian Heath, president of Drivewyze.
The weigh station bypass service will adhere to a tiered roll-out early in the new year, starting with Omnitracs' MCP110 and MCP200 mobile computing units; the MCP50 unit is expected to follow suit soon thereafter. Upon completion, more than 360,000 Omnitracs-equipped trucks in North America will be able to access and benefit from the weigh station bypass services powered by Drivewyze.