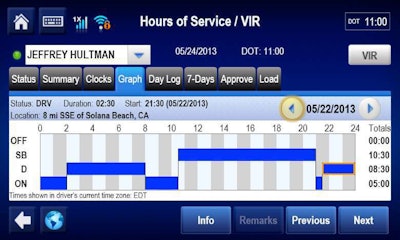 In what FMCSA said was an effort to reduce the costs associated with complying with the looming electronic logging device mandate, the agency in the final version of its rule to require ELDs removed the requirement that the devices themselves have web connectivity or telematics functionality.
The Final Rule was issued last week by FMCSA and its set for publication in the Federal Register, scheduled for Wednesday.
Removing the connectivity requirement lowers the costs of the devices in two ways: Lowering the initial price tag of compliant devices and removing the effective requirement to pay for a monthly subscription fee.
FMCSA's 2014 ELD mandate proposal required such connectivity as a means for roadside inspectors to check drivers' logs and ELD data. However, the final ELD rule allows for local connections, like Bluetooth and USB 2.0, at roadside.
Though the measure may not mean much for large fleets who either already have a fleet telematics system or were waiting on the ELD mandate to outfit their fleet with such, the revised hardware spec's could provide owner-operators and other small trucking companies an easier path to compliance.
CCJ will continue coverage of the ELD mandate and its stipulations in the coming weeks.