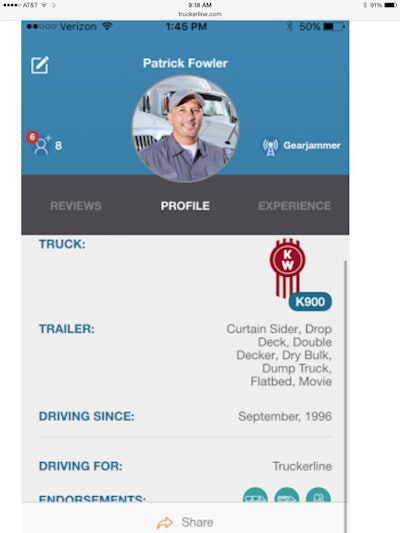 A "driving score" is now available in TruckerLine, a web-based platform and mobile app that drivers can use to build their career profiles and give interested parties one-click access to information and paperwork.
TruckerLine, developed by Outset Partners, says the platform is designed to allow drivers to better market themselves in the industry, to easily apply for jobs and stay in touch with other drivers they know and trust.
Through a new partnership with Zendrive, TruckerLine users can now "record" specific drives via Zendrive's smartphone technology that measures driving behaviors. These measurements produce a driver score on TruckerLine that drivers can use to showcase their professional abilities.
"Zendrive's technology is another step for TruckerLine's drivers to bolster their career reputations with an accurate measurement of their skills," said Pat Fowler, TruckerLine co-founder and chief technology officer. "This technology provides additional peace-of-mind for employers, brokers and shippers with a tangible measurement that adds to certifications and experience to create a full picture of any professional driver."
Zendrive attaches a score, a "reputation index," to drivers that reflects factors like speeding, hard brakes, sharp accelerations, swerving, length of time driving, time of day, and more.
"Zendrive technology is designed to reward safe, efficient and conscientious drivers," said Zendrive CEO Jonathan Matus. "In addition, we want to provide drivers with insights into their tendencies and behavior to help them improve over time, making them more attractive to employers and better professionals overall."
The TruckerLine application is available for download through the Google Play and Apple app stores for smartphones and tablets.