CCJ Indicators rounds up the latest reports on trucking business indicators on rates, freight, equipment, the economy and more.
---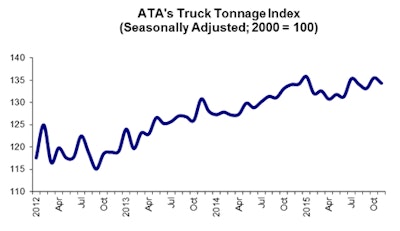 The amount of freight carried by the for-hire trucking industry, as measured by ATA's monthly Truck Tonnage Index, fell in November from October but is still trending ahead of 2014 year to date, ATA reported last week.
November tonnage sank 0.9 percent from October, ATA said, and was up just 0.2 percent from last November – the smallest year-over-year gain in nearly 3 years, ATA says. However, tonnage was up 2.7 percent through November compared to the same 11-month period in 2014.
"Tonnage gave back half of the gain in October highlighting weakness in factory output and new fracking activity, as well as a glut of inventories throughout the supply chain" said ATA Chief Economist Bob Costello. "With year-over-year gains averaging just 1.2% over the last three months, there has been a clear deceleration in truck tonnage.
"Looking ahead, I remain concerned about the high level of inventories throughout the supply chain. We recently learned that inventories throughout the supply chain and relative to sales rose in October. This will have a negative impact on truck freight volumes over the next few months," he said.