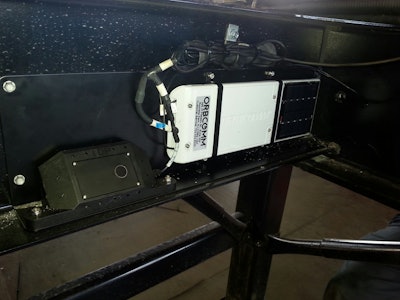 Orbcomm, a global provider of Machine-to-Machine (M2M) and Internet of Things (IoT) systems, has launched eleven next generation OG2 satellites from Cape Canaveral Air Force Station, Fla.. The eleven OG2 satellites were successfully separated from the Falcon 9 launch vehicle into the proper insertion orbit.
After an initial health check, the satellites will undergo extensive In-Orbit Testing (IOT) to verify that all subsystems are properly functioning. The satellites are expected to be providing full commercial M2M messaging and Automatic Identification System (AIS) services within the next 60 days.
Orbomm's OG2 satellites are far more advanced than its current OG1 satellites, designed to provide current and future subscribers with significant enhancements such as faster message delivery, larger message sizes and better coverage at higher latitudes, while significantly increasing network capacity. In addition, the OG2 satellites are equipped with an AIS payload to receive and report transmissions from AIS-equipped vessels for ship tracking and other maritime navigational and safety efforts, increasing asset visibility and the probability of detection for Orbcomm's AIS customers.