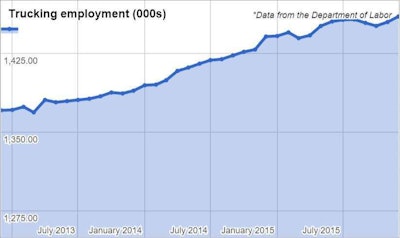 CCJ Indicators rounds up the latest reports on trucking business indicators on rates, freight, equipment, the economy and more.
---
For-hire trucking adds 5,300 jobs in December: The for-hire trucking industry in December added 5,300 jobs, according to the Labor Department's monthly preliminary employment report, pushing the trucking industry to another all-time employment high and continuing a now multi-year trend of steady employment growth in the trucking industry.
December's total employment figure in the for-hire trucking industry, reported by the DOL as 1.462 million, was just shy of 20,000 jobs higher than December 2014.
The U.S. economy as whole added nearly 300,000 jobs in the month, while the country's unemployment rate held at 5 percent.
The economy's transportation and warehousing sector, the umbrella industry for truck transportation, added 23,100 jobs in the month. The construction industry added 45,000 jobs in the month, according to the DOL, while U.S. manufacturers added 8,000 jobs.
---
Another look at truck orders: ACT Research reported this week net Class 8 orders in December hit 28,100 — up significantly from November reports that showed net orders skidding rock bottom. December's Class 8 order figures were up 68 percent from November, but were still down 36 percent from the same month last year.