CCJ Indicators rounds up the latest reports on trucking business indicators on rates, freight, equipment, the economy and more.
---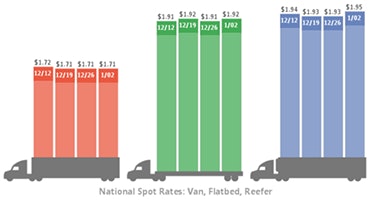 Freight surge puts upward pressure on rates: Per-mile spot market rates in flatbed and reefer segments saw a late-year boost on the heels of strong freight demand during the same week, according to numbers released this week by DAT Solutions. Reefer rates rose 2 cents in the week ending Jan. 2, DAT says, while flatbed rates rose a penny on average. Van, which saw a similar surge in freight, did not see a corresponding boost in rates. Reefer rates in the week averaged $1.95 a mile. Flatbed averaged $1.92, and van averaged $1.71 a mile.
---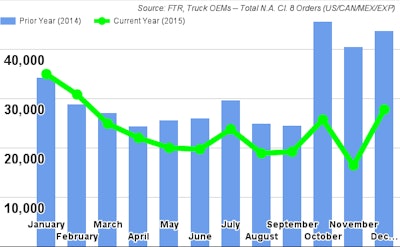 Truck orders rebound following recent nosedive: Preliminary data from transportation analysis firm FTR shows Class 8 truck orders in December netted 27,800 — a 70 percent jump from a rough November. December's orders, however, well exceeded expectations, FTR says, though they were still down 36 percent from December 2014 — the tailend of a record-setting surge in truck orders. November's numbers, along with expectations for a softer 2016, have caused some truck makers to layoff workers at U.S. truck manufacturing plants.
"The improved December orders provide some needed stability to what was a shaky Class 8 market," said FTR Vice President Don Ake. They weren't, however, strong enough to prevent announced cutbacks in production, he said.
"The December orders show there is still solid demand for Class 8 trucks in 2016. This is much welcomed news after the very concerning November total. Backlogs will actually increase in December for the first time since February. Orders should retreat some next month, with the industry in a more balanced state once the planned production cuts are complete."