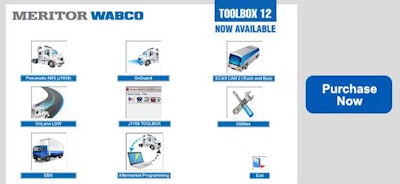 Meritor Wabco has released an update for its PC-based diagnostic software, Toolbox.
Stephen Hampson, president and general manager for Meritor Wabco, says Toolbox 12 includes expanded diagnostic capabilities and support for anti-lock braking systems, electronic braking systems and hydraulic power brakes, and also includes OnGuardActive diagnostics, aftermarket electronic control unit (ECU) programming updates and an improved quick-start guide.
The new software is now available for purchase. Meritor Wabco will offer customers with a current Toolbox 11 license a $99 upgrade for a limited time.
Toolbox 12 is available to new customers for a base price of $299 per license, with a discount for volume purchases.