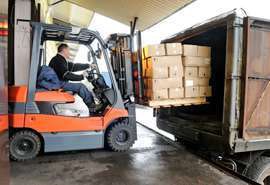 Logistical Labs announced an integration between LoadDex, its cloud-based rating and pricing platform, and a platform from project44 that uses cloud-based APIs to instantly connect shippers and 3PLs to capacity.
The integration allows LoadDex users to leverage project44's large network of LTL carrier data for fast, accurate rates and instant booking.
"We are delivering dynamic, real-time carrier rates by integrating LoadDex with our web service API platform," said Wally Ibrahim, chief technology officer of project44. "This collaboration will deliver strategic and tactical value to the freight industry, seamlessly providing 3PLs and shippers the ability to update their LTL carrier portfolios in real-time and request carrier rates in a fraction of the time."
"Users can now access project44's LTL network directly from within the LoadDex interface via API technology to instantly book capacity," said Chris Ricciardi, chief product officer of Logistical Labs. "Having all rates and all modes in a centralized location greatly streamlines the rating process for our customers — giving them one source for all of their mode optimization needs."
Logistical Labs' LoadDex aggregates pricing information for any given route and empowers users to make strategic decisions about pricing and mode selection. LoadDex collects relevant historical, social, and external pricing data through interactive tools to quickly compare and accurately track rates.
LoadDex says that users can analyze multiple years of data—thousands of data points from disparate systems—in less than two seconds to find the most efficient and cost-effective option.
After investing years of development effort to create the technological infrastructure, project44 has standardized hundreds of API connections to LTL carriers. This integration makes it possible for LoadDex users to instantly exchange real-time rating information via project44's Rating API, reducing the time it takes to request quotes from multiple carriers at one time.