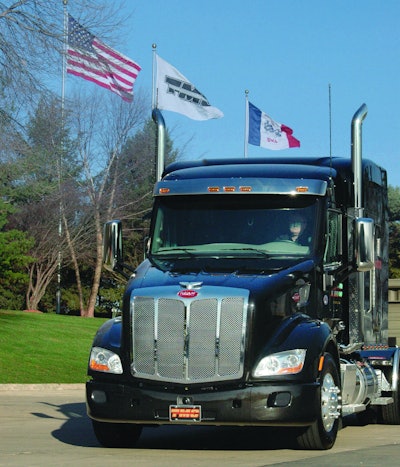 TMC Transportation, the largest privately held flatbed carrier in the U.S., has ordered 1,500 Peterbilt Model 579s in a multi-year agreement announced Tuesday by Peterbilt Motors Company.
TMC, a long time customer of Peterbilt, embraced Peterbilt's Model 579 upon its introduction, ordering 1,500 units in 2012.
"Integrating new technologies that provide improved efficiencies and bottom-line benefits is a strategy that makes TMC one of the industry's most innovative fleets," says Jeff Vanthournout, President of Allstate Peterbilt Group, which owns and operates 20 Peterbilt dealerships. "TMC is a valued customer and a great representative of the Peterbilt brand and the trucking industry."
TMC was founded in 1972 and is headquartered in Des Moines, Iowa. The company's 50-acre campus includes a state-of-the-art training center and the industry's first driver hospitality center.
TMC's fleet is comprised of late-model trucks with premium specs. The Model 579s just ordered will be equipped with Peterbilt's premium 80-inch sleepers.