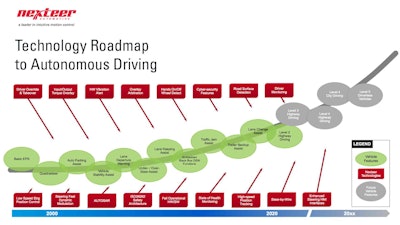 By a wide margin, vehicular autonomy is probably the sexiest innovation ongoing in trucking. The George Orwell-factor of a truck actively involved in the decision-making process if off the charts. And it's pretty cool.
It's important to understand that autonomy comes in many different levels. Adaptive cruise, collision avoidance and lane-keeping technologies are all off-shoot autonomous technologies. The "self-driving car" may get all the publicity, but levels of autonomy are already in play on Interstates all over the country.
Easier to steer, passenger cars have enjoyed most of the fun to-date but important innovations in collision avoidance, load stability and adaptive cruise are already in the heavy duty marketplace and a step in steering appears just beyond the horizon.
Nexteer launched its MagnaSteer with Torque Overlay (MTO) last month on the 2016 GMC Sierra HD and Chevrolet Silverado HD.
Brian Darling, director of global hydraulic product line for Nexteer, says MTO makes it possible for drivers of heavy duty trucks to experience advanced driver assist functionality and features more commonly found in electric power steering systems, like park assist, pull compensation, active return to center, lane keeping and others.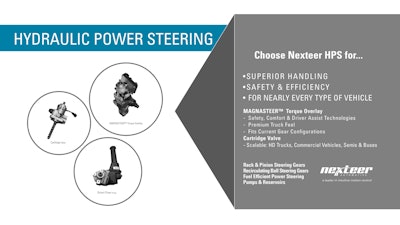 Darling adds Nexteer's MTO cartridge valve, the assembly of which features a modular design that interfaces with an OEMs' current gear configurations, makes MTO scalable for use in commercial vehicles. Making the jump from heavy duty pickups to heavy haul tractors is the company's next goal.
With the MTO integrated right into the gear housing, Darling says it eliminates added on technologies needed to make all the systems work together. That could bring down the price of the overall driver assist package.
"(MTO) should be the least disruptive way to apply the technology to the truck," he adds.