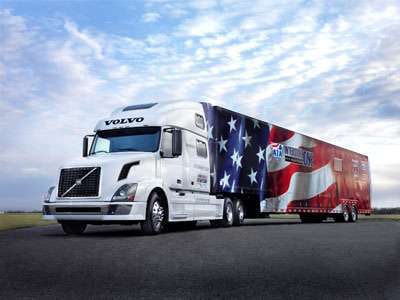 The nomination process for the 2017-2018 America's Road Team opened Thursday, Feb. 18, the American Trucking Associations announced.
Every two years, a new group of America's Road Team Captains are selected. Former captains stay active with the program after they rotate out by serving as mentors and attending events alongside the newest class.
Nominations can be made here and are due by Aug. 22. Finalists will be announced Oct. 22, and the final selection will be made in January 2017.
To be eligible for nomination, drivers must be currently employed as full-time truck drivers, either as company drivers or owner-operators; have an outstanding safety record with a minimum of three years accident free; be able to clearly and convincingly communicate their commitment to safety and professionalism; and be willing to spend between two and five days a month representing the trucking industry.
The nominating company must be a full dues paying member of ATA, and the nominator must be either a motor carrier executive or a self-sponsored owner-operator. An independent owner-operator who is a dues paying member of ATA may act as both a nominating company and a candidate.
While all travel expenses associated with Road Team appearances will be paid by ATA, the nominating company must be willing to continue to pay full salary and provide benefits to the driver. If a company nominates an owner-operator, they must pay the driver his or her overhead costs, plus an additional sum equivalent to his or her profit per day for each day traveling for ATA.
Independent owner-operators will also have their travel costs paid for by ATA, but ATA won't compensate a self-sponsored owner-operator for lost profits while traveling with the Road Team.
"Being selected as part of America's Road Team means joining a group that represents the trucking industry as its greatest ambassadors," said ATA President and CEO Bill Graves. "These elite professional drivers lend a voice to trucking professionals from all segments of the industry and help make trucking a safer, more productive and more respected industry."
America's Road Team Captains make appearances at events ranging from the National Conference of State Legislators to major industry conferences to local driver safety meetings to emphasize the importance of safety and professionalism and the need to portray the industry in a positive light.