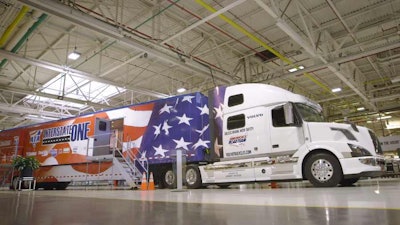 The fourth installment of Volvo Trucks' "Welcome to My Cab" video series features the American Trucking Associations' (ATA) America's Road Team 2015 Volvo VNL 780.
The ATA's America's Road Team program is led by a team of professional truck drivers, dubbed as Captains, who have demonstrated expert driving skills and logged millions of accident-free miles. The Captains use their Volvo VNL 780, which Volvo provided as part of its sponsorship of the program, to transport a mobile classroom across the country to share the importance of highway safety with thousands of students, public officials and others each year.
The America's Road Team VNL 780 has several safety systems and features, including Volvo Enhanced Cruise (VEC) with Active Braking,Volvo Enhanced Stability Technology (VEST), Volvo's Lane Departure Warning system, and LED headlights. A Volvo D13 engine powers the tractor, which is also equipped with the Volvo I-Shift automated manual transmission.
Volvo Trucks dedicated the 2015 Volvo VNL 780 model to the America's Road Team program in early 2015 during a brief ceremony at Volvo's New River Valley assembly plant in Dublin, Va., where all Volvo truck models for North America are assembled.