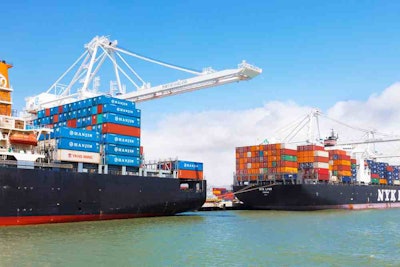 The Port of Oakland is now open nights and weekends free to truckers as it redistributes cargo to adjusts to one of its marine terminals closing.
Truckers or the cargo owners they drive for won't be charged for extended-hour gates, the port said. Port commissioners will spend up to $1.5 million for the increased hours in anticipation of Outer Harbor Terminals LLC ceasing vessel operations March 31. The company, formerly known as known as Ports America Outer Harbor LLC, has filed for bankruptcy.
The Board of Port Commissioners approved the plan, known as the Transition Assistance Program Feb. 11. Port officials will redirect ships and cargo from Outer Harbor Terminal to adjacent terminals.
The commission said eligible terminal operators may receive up to 12 weeks of funding. Terminal operators must meet criteria to receive funding, including getting harbor truckers in and out of terminals within 75 minutes.
Most Oakland terminals gates had been open to truckers 8 a.m. to 5 p.m. weekdays. Weekends normally had been restricted to vessel and container yard operations.