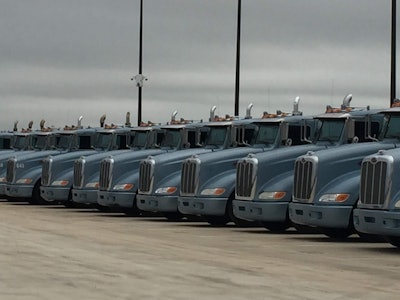 Truck orders this year are expected to slip from the banner year that was 2015. The last forecast I've seen from ACT Research pegged Class 8 orders at around 222,000 units for this year, a 12.2 percent decrease from what was booked last year.
A loss of more than 26,000 trucks is basically the loss of volume from a really good month in 2015.
Keeping in line with industry expectations, ACT says Class 8 booked 18,247 net orders in January, down 48 percent year-over-year.
The good news is that 2016 kicked off with second largest January backlog of Class 8 orders in the past 10 years and the fourth biggest in the past 15 years.
That won't last forever. Truck makers are already ramping down production but that trucks in the pipeline are seeing their way through is encouraging.
Negative trends in freight, capacity and rates are shouldering most of the blame for a down year. (It's at this point I should probably point out that a year where more than 200,000 new trucks could hit the road is still a really good year.) But respondents to the 2016 CCJ Reader Profile indicate more than half the fleets in the market for more trucks plan to see those purchase plans through.
More than 50 percent (50.1 percent) say they plan to grow their business by adding more trucks and/or drivers over the next 10-plus months. An additional 17 percent plan to expand by taking on more lease owner-operators. Another 13.6 percent say their businesses are gearing up to grow through expansion.
Just two percent of responders plan to cut their number of trucks and drivers this year.
Almost 60 percent of the respondents to the Profile survey are decision makers for fleets with 100 trucks or less, so it's likely any order boost won't overly stress production.
Of course, adding trucks doesn't necessarily mean adding new trucks, but optimism in the marketplace is always welcome. The used market is a buyer's market right now with used commercial trucks fetching about 8 percent less than last year.
The Reader Profile reflects intentions not results, so lot can change over the course of the next 10 months. Maybe half those purchases never leave the budget. Maybe more. Maybe less.
But I think there's some good data there that at least there's an expectation rates and economic conditions might rebound sooner rather than later.