CCJ's Indicators rounds up the latest reports on trucking business indicators on rates, freight, equipment, the economy and more.
---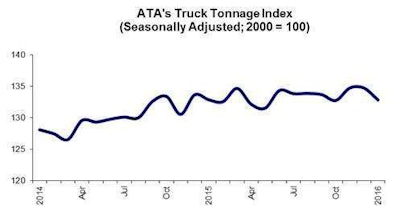 The amount of freight carried by the for-hire trucking industry fell 1.4 percent in January from december, according to the American Trucking Associations' monthly truck tonnage index.
The dip comes after an upwardly revised December tonnage reading that registered an all-time high on ATA's scale, the group reports. Compared to January 2015, the index's reading was flat in January.
ATA Chief Economist Bob Costello says the January dip continues a trend seen in the later part of 2015. He also again, like in recent months, pointed to supply chain issues like overstocked retailers as hang-ups for tonnage growth.
"Clear, 2016 started soft for truck tonnage," he said. "The winter storms that hit in January likely suppressed volumes some, but by falling 1.4 percent, I doubt tonnage would have been positive without the storms. So, that tells me that the inventory situation continues to weigh on truck freight volumes. The sooner the supply chain cleans out the excess stocks, the better for trucking."