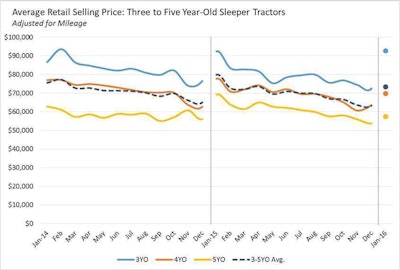 Retail data for the month of January shows the average of 2014-2012 model years sleeper tractors sold for $6,437 less money versus the year before, a drop of 8.1 percent.
Older trucks are baring the brunt of the downturn according to J.D. Power data, with five year-old units averaging down almost 17 percent ($9,680) and four year-old units averaging down 10 percent ($7,682).
Three year-old units are mostly flat at an increase of $229.
J.D. Power commercial truck senior analyst Chris Visser says price decreases can be attributed to depreciation of the highest-volume models that have been running through auctions for the past six to nine months.
"In January of 2015, the lowest-priced five year-old sleeper tractor reported sold brought $40,000," he says. "In January of 2016, the lowest reported sale was $19,250."
Visser adds trucks of each model year continue to depreciate at roughly 4 percent per month, which he expects to continue in the short term.