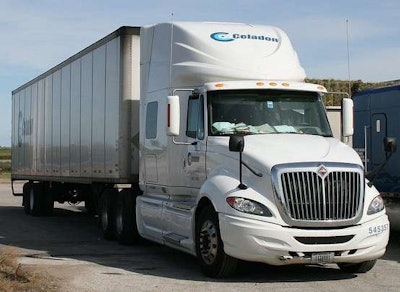 Celadon Trucking (No. 35 on the CCJ Top 250) has announced a new truck lease program to help give drivers a taste of being an owner-operator, it says.
Celadon's new "Rent-to-Run" program is a full-service truck lease program in which drivers get "all rewards of being an independent contractor without the risks," the company said. Drivers in the program will get 75 percent of bills of lading for on-time deliveries and receive regular settlement statements.
"This offer provides less hassle and higher take-home pay for most drivers," said Ashley Hay, Celadon's Vice President of Driver Recruiting. "The Rent-to-Run program offers a pay package higher than our typical lease purchase driver combined with the support network available to drivers in a company fleet."
The company said a weekly payment will cover the truck, insurance and all operating expenses. Drivers in the program can driver over-the-road or Midwest regional and are promised full-service, no hassle maintenance and a free loaner truck provided within 48 hours when needed.
"Our Rent-to-Run program simplifies managing your own truck," Hay added. "Whether you want to test your hand at running your own truck or you're a seasoned veteran, this full service program takes the risk out for drivers."