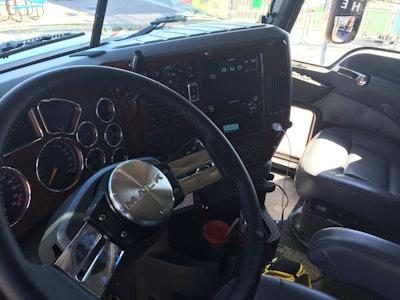 Men and women don't buy their clothes in the same departments and large men and women each even have their own stores, yet these various body types are all expected to drive a similarly spec'd truck.
Women In Trucking CEO Ellen Voie, who spoke during a meeting of the Future Truck Committee at the Technology and Maintenance Council in Nashville, Tenn., Monday, says the one-size-fits-all approach to spec'ing is likely costing companies drivers they sorely need.
"I do know there are women who can't pass their CDL just because they can't reach [the pedals]," she says
The average weight of a female driver, according to Voie, is 160 lbs. versus 213 lbs. for men. The average height of female drivers is 5'4″ against an average of 5'10" for men.
Voie says a major challenge for women drivers and smaller frame men is the ability to properly adjust air ride seats so they can comfortably reach controls.
"Women tell me all the time, 'If I put the air ride seat low enough, I can't see over the dash, but if I put it high enough I can't reach the pedals,'" she says. "The average female driver is 5'4″, so that means half of them are smaller than that."
Voie adds 25 percent of women drivers say their cab is not comfortable for their body type.
"A huge complaint was sun visors," she says. "They say sun visors are useless."
Ryder is currently spec'ing some trucks based on recommendations from Women In Trucking that include adjustable seatbelt shoulder straps, improved location of the instrument cluster, adjusted height of grab-handles and better access to oil and coolant fill ports.
Vioe says she's not an advocate for inventing a spec for women drivers considering they make up just shy of 6 percent of drivers on the road. She notes many female drivers are part of a team and the truck needs to suit both drivers of likely various size. She's simply asking fleets and OEs to factor drivers on the smaller side of the scale more heavily in their design and spec decisions.
"We're not trying to create a truck for women," she says. "We're trying to create a truck that accommodates women."