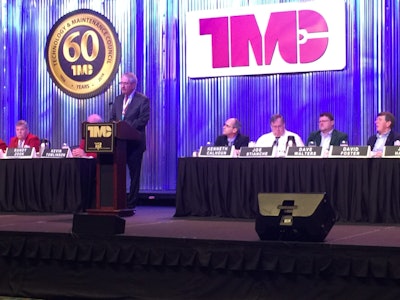 The Department of Labor announced last month there were 5.6 million job openings in the U.S., and vacancies continue to land in the abyss that is a widening skills gap.
Trucking is poised to need 4.7 million new workers by 2022, with upwards of 20 percent of those being technicians, but Randy Zook, president and CEO of the Arkansas State Chamber of Commerce, says a skills gap – where a significant population of people remain unemployed or under employed because they aren't qualified for better available jobs – is keeping people from finding new and better jobs.
In order to tackle that problem head-on, Zook, who spoke at the Technology and Maintenance Council (TMC) opening breakfast Tuesday morning, partnered with local industries with the hopes of making technical careers more attractive to today's middle schoolers.
The Be Pro Be Proud campaign is just getting off the ground in Arkansas, but it already marks the state's most significant and best organized push toward trade education to-date.
Zook collaborated with the Arkansas Trucking Association and Kenneth Calhoun from Truck Centers of Arkansas to put the effort together.
The push found support from the Arkansas legislature in improving the delivery of workforce education, but Zook noted the demand for that type of education was a larger problem.
"Students have been told they must go to college in order to be successful," he says. "Shop classes have mostly disappeared from most school buildings and technical training has almost become an afterthought."
Zook says his group decided to attack the problem in the eighth grade classroom, intoducing students and their parents to the viability of a good living thanks to a trade school or vocational education.
"Parents felt their own self-worth was tied to wether or not their child was college material," he says, noting less than 33 percent of parents said they would choose a skilled profession for their child.
The group just launched a promotional website, BeProBeProud.org and will soon unveil a mobile workshop – a Freightliner M102 tractor and trailer outfitted "with simulators and digital content that can be touched, tested and explored," Zook adds.