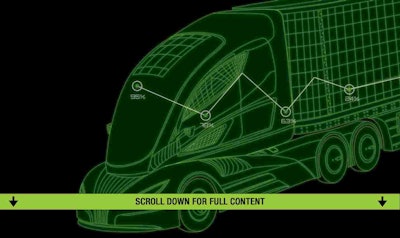 Maybe instead of "it's not rocket science" people should say, "It's not trucking science"?
Bill Kahn, advanced concepts manager at Peterbilt, says the latter is just as advanced of a machine.
As part of a panel on trucking's next generation of technology Wednesday at the Technology & Maintenance Council (TMC) Annual Meeting in Nashville, Tenn., both Kahn and Paul Menig of Tech I-M spoke to the lightning fast introduction and adoption of technology in today's commercial trucking industry.
"We have more computing power on a truck now than the space shuttle had when it was running," Kahn said. "And there's a lot more to come."
Pushed jointly by customer demand and the EPA's proposed Phase II greenhouse gas emission and fuel economy standards, Kahn says there are very few systems on today's trucks that won't see major technological updates in the coming decades. Shortening his scope to the short term of 3 to 7 years, Kahn says PACCAR is currently focused on the driver assistance systems, engines and advanced powertrains, idle reduction, alternative fuels, component electrification and HMI (human machine interface).
He says full vehicle autonomy with driverless trucks remains unlikely for the fleets in the near future, but says it is likely that autonomous technology will develop to a point where drivers are only needed for specialized actions and decision making.
"Autonomy is going to be the cruise control of the future" he says.
Menig cites voltage as another area where product development is likely to rapidly change. He says the industry's days of using 12-volt batteries are numbered.
"Is 48 volts too high? We know 12 volts is too low," he says.
Then there's maintenance.
Menig says OEMs can't forget the shop while they're developing this new technology.
"If you ask the OEMs about [future maintenance] they say 'What maintenance?" he says. "That's a great goal, but it may be slightly unrealistic for us."