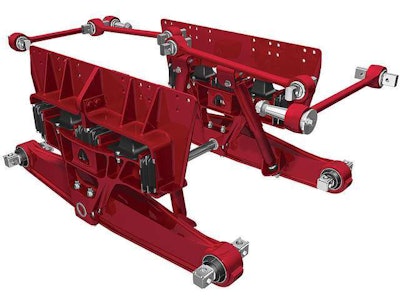 Kenworth announced at the Work Truck Show in Indianapolis Wednesday the company is making the Hendrickson ULTIMAAX advanced severe-duty rubber suspension available on the T880.
For the Kenworth T880, the suspension is available with axle ratings from 46,000 to 52,000 pounds, axle spacings of 54- and 60-inches with 11-inch ride height for applications such as refuse, sand and gravel, crane/boom, platform, construction, and logging.
"The severe-duty suspension helps enhance the T880's traction, stability and handling under loads from 46,000 to 52,000 pounds," says Kurt Swihart, Kenworth marketing director. "Plus, it adds even more durability and helps customers maintain a lower cost of operation with its components designed for maximum weight savings for additional payload."
The suspension features bar pin end bushings, a progressive load spring design, and a rugged axle connection to extend its service life. The progressive load spring design also makes replacement easier and the rugged axle connection can reduce re-bush time, Hendrickson says. Rubber shear springs carry a majority of vertical load in the empty condition, creating a smoother ride. As the load increases, the suspension's ride and stability characteristics change to meet the application's needs without an abrupt change in spring load.
Swihart adds the rubber shear springs also contribute to longer service life for the T880 and the body equipment.
Integrated with the rate spring design and axle connection is Hendrickson's walking (equalizing) beam technology, which utilizes a central pivot point to help keep tire contact with the road or worksite surface, maintaining traction. Its flat-bottom design increases ground clearance, plus it delivers up to 17.5 inches of diagonal wheel articulation to keep the load on all drive wheels.