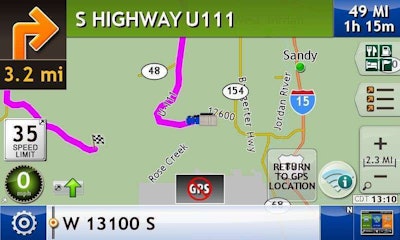 Rand McNally is launching a new, enhanced version of its IntelliRoute with MileMaker software. The new software is being showcased at the Truckload Carriers Association (TCA) Annual Convention in Las Vegas March 6 through March 9.
The new Enhanced IntelliRoute with MileMaker features several key functional improvements. Users can now create multiple routes on a single screen to more clearly see routes, maps, and overviews. The new software also provides enhanced toll data, which includes transponder discount rates, and redesigned maps of higher resolution and an improved user interface.
"This new Enhanced IntelliRoute with MileMaker is a giant step forward, providing additional tools and flexibility for carriers, shippers, and third party logistics providers," said Stephen Fletcher, CEO of Rand McNally. "Users will be able to quickly run multiple queries in just a few steps. From there, they'll be able to visualize routes like never before with the new high resolution maps."
Rand McNally says its software is used by more than 90 percent of the top motor carriers, many of the largest manufacturers and retailers in North America, and 75 percent of IFTA agencies and is integrated with more than 90 transportation management applications.