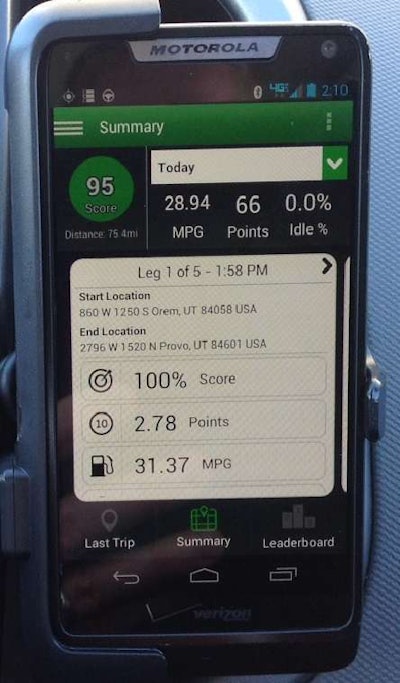 LinkeDrive announced  that USA Truck, Inc. has installed LinkeDrive's PedalCoach mobile application in a dedicated fleet of trucks to increase the fuel efficiency and augment the company's existing pay-for-performance program.
Based in Van Buren, Arkansas, USA Truck is one of North America's largest carriers. During its ongoing efforts to continuously improve fuel efficiency, the company's strategic sourcing team reviewed the capabilities of LinkeDrive's PedalCoach mobile application. After a year-long trial period of driving with the PedalCoach on Android devices, the team concluded that PedalCoach increased fuel savings and enhanced its existing pay-for-performance program to further improve the driver satisfaction.
"Our drivers are truly the backbone of USA Truck and we take great pride in the work that they do to make our company successful," said Martin Tewari, USA Truck's president of trucking. "As a result, we place a strong emphasis on ensuring that our drivers have work-life balance and are properly compensated for performance. Besides increasing fuel economy, LinkeDrive's pay-for-performance capabilities quickly demonstrated the overall performance of our drivers and helped us make the jobs of our drivers a bit easier while rewarding those who drove in the most fuel-efficient manner."
PedalCoach leverages LinkeDrive's cloud-based platform to provide real-time, adaptive feedback for improving fuel efficiency and safety. The application sets a unique fueling target for each driver communicated in a simple red-yellow-green interface that allows drivers to earn "points" for achieving optimal behaviors and patterns.
"I've been in the trucking industry for roughly 30 years and have seen and tested many products that claim to save trucking companies fuel. From everything I've seen since installing the PedalCoach app, I believe this is the one that will have the most impact on our industry," said Greg Lutes, vice president and general manager of USA Truck's Dedicated business.
"Our intentions behind developing PedalCoach have consistently focused on increasing fuel efficiency, improving driver safety, and helping to retain drivers by offering them a compensation program that is a win for both drivers and their employers," said Jeff Baer, LinkeDrive's founder and CEO. "We are absolutely thrilled that USA Truck, an established and well-recognized leader in the industry, has deployed and stands behind the effectiveness of our technology."
LinkeDrive's PedalCoach application can be deployed on LinkeDrive's Android device and also integrated easily on Android-based tablets installed within cabs. Installations take under 15-minutes per truck. Fleets can securely access driver and truck analytics to track trends, compare drivers, assess differences in truck models, and evaluate regional and seasonal variances in performance.