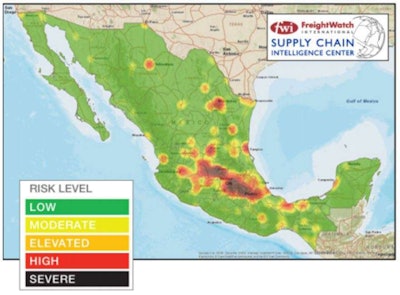 Cargo theft in the United States may be worrisome, with an average of more than two incidents per day nationally, according to FreightWatch International, but it's even worse in Mexico, which averages almost three cargo theft incidents per day. And the Mexican trucking industry is just a fraction of the size of the U.S.' trucking industry.
The Mexican trucking industry, roughly a tenth the size of the U.S.', suffered a total of 1,087 cargo theft incidents in 2015, compared to just 754 in the United States, according to FreightWatch's annual Mexico report.
Mexico has a $68 billion trucking industry, according to a 2013 report by Armstrong & Associates. The U.S. trucking industry, meanwhile, is a roughly $700 billion a year sector.
According to FreightWatch's numbers, Mexico's 1,087 cargo thefts constitued a 73 percent increase over 2014's numbers. Thefts spiked in the country from August to November. FreightWatch says the flow of goods increases by as much as 30 percent during that time of year.
Similar to the trends in the U.S., theft of food and drinks accounted for the most-stolen load type in Mexico. Building and industrial product loads and fuel were the second- and third-most stolen loads in Mexico.
Mexican cargo thieves most utilized hijacking the driver while in transit as the method to steal loads. Warehouse robbery was the second-most utilized method of theft. In the U.S., unsecured parking at truck stops, public parking lots and drop lots accounted for 86 percent of all thefts.