CCJ's Indicators rounds up the latest reports on trucking business indicators on rates, freight, equipment, the economy and more.
---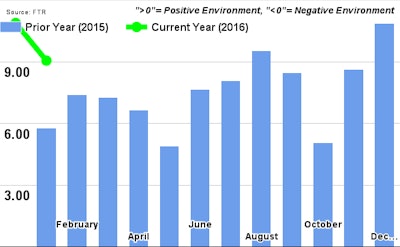 Trucking conditions dip slightly in January: Market conditions for trucking companies, as measured by FTR's monthly Trucking Conditions Index, declined slightly in January due to slowed freight demand, FTR reported this week.
Current demand is well in line with current capacity, FTR notes, and market conditions are "slowly slipping and becoming more volatile" the longer the slow economic recovery from the '08-'09 recession lingers.
A coming "regulatory crisis," as FTR calls it, will likely jolt the index's reading, due to expected tighter capacity and upward pressure on rates.

"We are hearing of a much tougher negotiating environment for truckers heading into the spring freight uptick. Headwinds to the recovery are building and 2016 is not likely to be as strong a year for truck operators," says FTR's Jonathan Starks. "After 2016, however, the situation could begin to reverse as carriers implement ELDs and speed limiters ahead of the mandatory dates set for late 2017 and early 2018. Even if the economy sours between now and then, the impact of those regulations could be enough to keep capacity relatively tight and rates neutral."
---
Freight climbs in Sun Belt: Following a slow February, March and its pre-spring mild weather has reefer and flatbed freight volume growing, says DAT in its weekly rates report, particularly in the so-called Sun Belt, a cross-country stretch from Southern California to South Carolina, where spring is mostly in full swing already.
Spot market rates, however, have not followed suit, DAT reports, with flatbed and van rates falling in the week ending March 12. Reefer, meanwhile, saw a slight uptick.