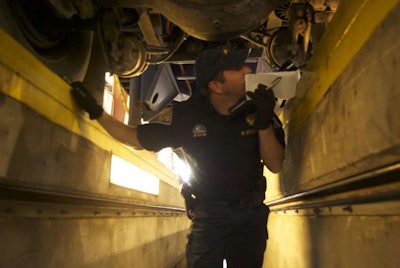 The Federal Motor Carrier Safety Administration announced this week it will hold two more public listening sessions to try to gather information from the trucking industry on the potential benefits and feasibility of voluntary compliance incentives for carriers and drivers.
The first session will be held Friday, April 1 at the Mid-America Trucking Show in Louisville, Ky., from 10 a.m. to noon and 1:15-3 p.m. eastern time. The second session will be held Monday, April 25 at the Commercial Vehicle Safety Alliance Spring 2016 Workshop in Chicago from 9:30-11:30 a.m. and 1:30-3:30 p.m.
A section titled "beyond compliance" in the FAST Act highway bill requires FMCSA to develop and implement an incentive system for carriers that gives credit in the Compliance, Safety, Accountability program's Safety Measurement System or some other way in the CSA program to carriers who take or invest in voluntary compliance initiatives.
FMCSA wants public comment during the meetings on the concept of "beyond compliance," with any data or analysis to support it, with regard to the following three areas:
What voluntary technologies or safety program best practices would be appropriate for beyond compliance?
What type of incentives would encourage motor carriers to invest in technologies and best practice programs?
How FMCSA would verify that the voluntary technologies or safety programs are being implemented?
The public is invited to attend both sessions, and no pre-registration is required.
See more about the "beyond compliance" section of the FAST Act here. A recap of concerns raised at a "beyond compliance" hearing in January can be seen here.