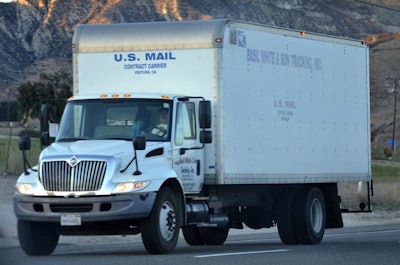 The Federal Motor Carrier Safety Administration announced Tuesday it denied an application from the National Star Route Mail Contractors Association asking for an exemption from the 14-hour on-duty limit of truckers' hours-of-service regulations.
NSRMCA members transport mail under contract for the United States Postal Service. The association requested that mail-carrying drivers have the ability to — after being off duty for eight consecutive hours — choose to be on-duty up to 15 hours in a 24-hour period and drive up to 10 hours. NSRMCA said in the exemption request its drivers typically work in "split-shifts," breaking their on-duty time up with a nine-hour break between on-duty shifts.
The American Postal Workers Union, which represents U.S. Postal Service employees, opposed the exemption, because it said NSRMCA member drivers were "already overworked."
FMCSA said its decision to deny the application was based on information provided in the application, comments received on the notice and research done by FMCSA on the 14-hour HOS rule. FMCSA said it has denied the same request on two previous occasions.