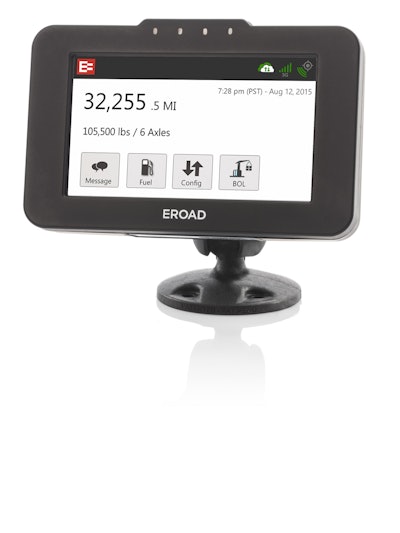 As vehicles continue to get more fuel efficient, state and federal governments are looking at alternative funding mechanisms to shore up their fuel tax revenues. The Congressional Budget Office, for instance, recently proposed that Congress pass legislation that would charge drivers a tax for every mile they drive.
Some states are not waiting on a federal solution. Oregon and California have already taken actions to tax motorists based on the type of vehicle, weight and distance they travel on state roads. Oregon implemented the nation's first GPS-based weight and mileage tax in 2014.
Oregon, and now California, are using a telematics device from ERoad to collect accurate mileage information from heavy duty commercial vehicles.
Recently, the California Department of Transportation announced that ERoad will be its heavy vehicle technology provider for a Road Charge Pilot. As the largest pilot to date, the program is scheduled to run for nine months, starting in July, 2016, to investigate road charging options for possible replacement of California's fuel tax. ERoad is its sole provider in the heavy vehicle category.
ERoad first developed and deployed its weight-mile tax solution for electronic road user charging in New Zealand. ERoad says it strives to make tax and driver safety compliance easier for motor carriers utilizing its full suite of compliance solutions.
Heavy vehicle participants in Oregon and now the California Road Charge Pilot can also take advantage of the full range of ERoad services that include electronic IFTA, electronic logbook, Oregon weight mileage tax (WMT), driver feedback, idle reporting, vehicle maintenance reporting and more for no cost. ERoad is also working to develop a fully compliant electronic logging device (ELD) application.
Interstate Wood Products, an Oregon-based fleet customer of ERoad, created this humorous YouTube video to demonstrate the time it saves by automating its tax reporting.