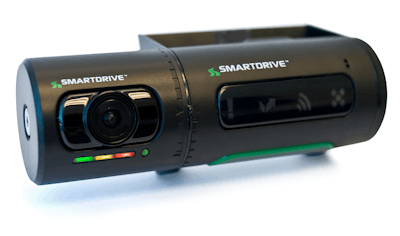 SmartDrive Systems announced that Fortune Transportation is deploying the SmartDrive video-based safety program across its fleet of more than 150 vehicles. Following a competitive head-to-head assessment, Fortune selected SmartDrive for reasons that include:
Immediate offload and access to video.
The ability to never miss a collision and capture no-impact incidents with Extended Recording.
Analytics and key performance indicators (KPIs) that can be easily incorporated with Fortune's existing driver scorecard program.
"As we were evaluating options available in the market, SmartDrive was the clear front-runner in terms of ROI. We experienced first-hand how immediate access to video can make a significant difference," said Kent Kelly, general manager of Fortune Transportation. "Between the two systems we tested, only SmartDrive was able to provide us video within minutes of our driver's collision."
Immediate access to video proved to be the difference in protecting a Fortune driver and avoiding an insurance claim in a Valentine's Day collision. North of St. Louis, Missouri in the early afternoon, a passenger vehicle and Fortune truck collided. The driver of the passenger vehicle accused Fortune's driver of leaving his lane of traffic, causing the driver of the car to spin-out and hit the truck.
Kelly said he was alerted immediately and within minutes had the collision video to review – which clearly showed the Fortune driver had stayed in his lane and the passenger vehicle was at fault. In less than 30 minutes, the driver was reviewing the video with the state trooper at the scene proving his innocence. The driver avoided a citation and the company did not waste valuable time and resources fighting a costly claim.
Another key factor in Fortune's decision was Extended Recording, which expands the capabilities of the core program by enabling fleets to access up to 100 hours of contextual video on-demand. With this service, Fortune can have video for low impact and side swipe collisions, as well as all types of issues on the road, from delivery verification to security incidents.
Additionally, Fortune can easily integrate SmartDrive's actionable KPIs and robust metrics with its existing driver scorecard program.
"SmartDrive's Extended Recording service has been a significant benefit in terms of helping drivers understand the value of in-cab video and providing us with more context on significant incidents," continued Kelly.
Fortune leverages SmartDrive videos during its on-boarding orientation. Kelly uses actual incident videos to explain how the program works and showcase the protective and professional benefits of the system. This approach has put the drivers' minds at ease and Fortune has been able to eliminate any push-back, he said.