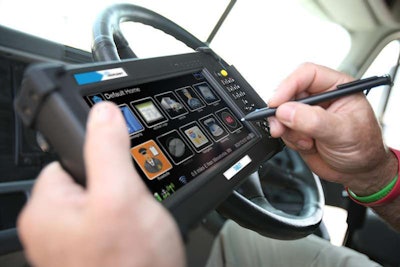 PeopleNet, a Trimble Company and provider of fleet mobility technology, has integrated with a tire pressure monitoring system from Wabco.
The wheel-mounted sensors in WABCO's Integrated Vehicle Tire Monitoring (IVTM) system wirelessly update tire pressures directly from each wheel into PeopleNet's in-cab system, alerting drivers to any tire pressure issues.
"Working with Wabco gives our customers more choice when they are looking to add a tire pressure monitoring solution," said Tom Fansler, executive vice president, product, for PeopleNet. "WABCO's industry-leading technologies and commitment to safety make them an ideal partner."
The benefits of adding a tire pressure monitoring system are not limited to safety. Wabco says its IVTM can help extend tire life by up to 20 percent and reduce fuel consumption by 2 percent.