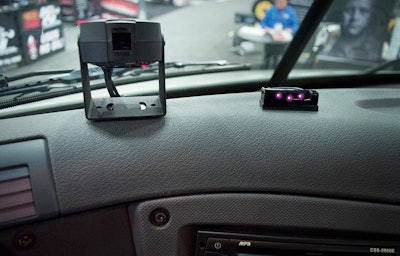 Seeing Machines' Guardian fatigue management system is being tested at six small and large U.S. fleets, said Chris Sluss, vice president of business development.
The driver-facing camera system is displayed in a truck at the Mid-America Trucking Show in Louisville, Ky. Actual video of drivers falling asleep and driving while distracted is displayed in the booth.
"There's nothing else that prevents an accident," Sluss said. The product is "the only one that has an algorithm that detects fatigue and distraction."
The system uses a small dash-mounted camera. Small units, placed left and right of the camera, emit infrared light, enabling the system to work in the dark and when the driver has on sunglasses.
An alarm is triggered by certain movements, such as eyelids closing or the head nodding, that exceed settings determined by the fleet. The alarm consists of seat vibration and audible alerts, such as low rumbles, beeps and a whistle.
This video of a fatigued driver was taken from an actual fleet test.
A fatigue incident report is sent almost instantly to the driver's fleet, Sluss said. Other reports can be compiled on a regular basis to enable the fleet to determine how drivers are performing relative to fatigue and distraction.
The six U.S. fleets, which Sluss declined to name, are going through 30-day or 60-day assessments. The product is already being used in 5,000 to 6,000 trucks in mining and trucking, in Australia and other countries, he said.
Fleet tests have shown the system reduces fatigue incidents by 50 percent to 90 percent, he said.