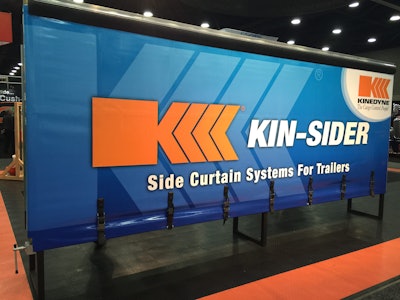 Kinedyne unveiled at the Mid-America Trucking Show (MATS) in Louisville, Ky. Thursday its new Kin-Sider and Kin-Slider systems. The Kin-Sider employs familiar fasteners at the bottom of the curtain side, but a unique latching enables the curtain to be effortlessly opened and closed within seconds.
In designing its new Kin-Sider and Kin-Slider systems, Kinedyne says it focused on addressing weaknesses such as single-point latching, moisture intrusion, mechanical failure, graphic fading and fungal growth that have often plagued existing curtain-side systems.
"Everything from our moisture seals to our closure mechanisms to our curtain roller design and graphic integrity protection system has been carefully designed for optimal performance and longevity," says Paul Wolford, vice president of sales and marketing for Kinedyne.
The Kin-Sider replaces traditional curtain-side systems commonly used on 18-wheelers, and provides a technological advantage for those with chassis-mounted truck bodies that now use roll-up doors and traditional curtain-walls.
The Kin-Slider opens and closes at both ends of the trailer, and cargo can be fully accessed and the curtain closed again within a matter of moments. The system has a unique full-length, vertical, multi-latch closure system with an adjacent, all-in-one latch release mechanism located both forward and aft.
"We recently presented our Kin-Slider product to a fleet with curtain-side vehicles that open and close as many as 50 times a day," Wolford adds. "You don't have to be a mathematician to understand that our Kin-Slider technology will translate into several hours in time savings for each of their vehicles, and that has the potential to save them significant dollars."
Kinedyne can also apply customer graphics to the base curtain material using digital printing technology capable of achieving resolutions of 360 dots per square inch – the equivalent of a high-quality print magazine.