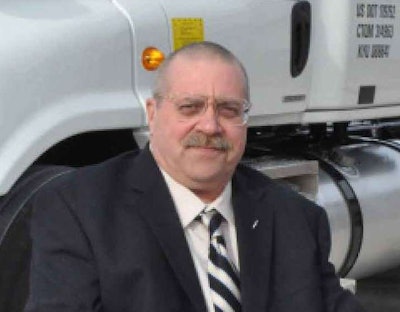 Commercial Carrier Journal is sad to report the passing of Carl Tapp, former vice president of maintenance at P.A.M.Transportation Services and a leader in the truck maintenance community. Tapp, 59, passed away at his home on March 28, 2016. Tapp had battled Multiple Sclerosis since 2002.
As a former Technology & Maintenance Council taskforce chairman and Silver Spark Plug recipient, Tapp dedicated his professional career to working with engineers to improve truck-related components and improve technician proficiency. In 2011, CCJ honored Tapp with the Technology & Maintenance Career Leadership Award, given annually to an individual in the trucking maintenance profession for exemplary service to the industry.
"Never give up," said Tapp in a 2011 interview with CCJ about his battle with MS. "Dare to soar, and do whatever it takes. Those are the things I've lived with. This disease is tough, but you can't quit. So I just keep on pushing every day."
Tapp is survived by brother and sister-in-law Rick and Michaelanne Tapp of Grapevine, Texas, uncle RobertBerg Tapp and cousins Mara, Kami, Karin, Ronni, Paul and Peter and their families, as well as niece Emily Tapp and nephew Ross Tapp.
A memorial service will be on Saturday, April 2, 2016 at 2 p.m. in Rollins Funeral Home Chapel. Donations in lieu of flowers can be made to the National Multiple Sclerosis Society. Online condolences can be made at www.rollinsfuneral.com.