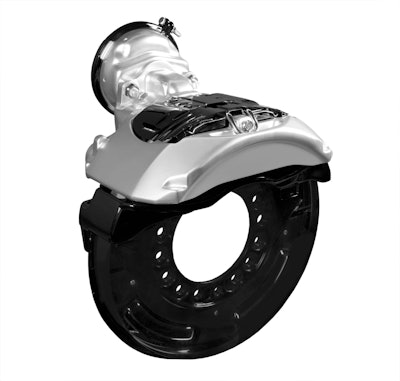 WABCO has seen adoption of its air disc brakes surge from 5 percent to 20 percent over the last five years, and that's a trend that Jon Morrison, the company's president of the Americas, says he expects to continue.
Admittedly, a growth rate of 300 percent isn't sustainable without a few major changes in the market – among them, the price point.
"I think it comes back to the perceived value and return on investment for fleets," he says. "As we move into more mainstream, sort of truckload type of fleets, they have a certain payback and [return on investment] threshold that you really have to meet."
For disc brakes to move into a position where they are more standard than not, Morrison says their premium price point needs to fall by well more than half on a per-truck basis compared to a standard drum brake.
"Disc brakes really need to be no more than a $500 to $600 upcharge over [the standard drum brake configuration]," Morrison adds. "The interest it there. The understanding of the product is there. The confidence in the product is there, but we have to get the cost value equation in the right range."
Driving down the cost isn't a volume proposition. Higher take rates and competition in the market won't necessarily lead to lower prices. That WABCO is now able to build and source in North America thanks to its Charleston, S.C. facility will also come into play as the company seeks to drive down costs, but the quest to Buy American will only go so far.
Perceived value for disc brakes is going to take fleets recognizing upfront expenses can be a long-term investment.
"Bumping into one [passenger] car, regardless of whose fault it is, is going to cost me a minimum of $20,000," says Ralph Lo Priore, director of fleet assets and processes for Seattle-based Stoneway Concrete. "If I can stop quicker and stop safer, who cares about how often you have to replace a brake rotor? It's a $200 rotor. So what? If disc brakes prevent only one accident per truck, they've paid for themselves ever how many times over."
Within reason, Lo Priore told me he didn't care what the cost difference was between disc and drum brakes, adding he won't spec drum brakes on any new orders.
"I don't know why anybody would," he says.
Ralph is clearly a guy who's done the math. While he told me math was never his best subject, the equation for him was pretty easy:
Sticker cost of the truck + premium for disc brakes – $20,000 in potential litigation fees, body damage and downtime = sign me up.
David Hillman, vice president and general manager of Navistar's vocational product line says an increasing number of fleets are doing the same kind of math, but not necessarily using the same formula.
Lo Priore and Hillman each suggest fleets look back at recent CSA inspections.
Hillman says the potential to eliminate brake-related CSA violations and the downtime that comes with them has emerged as one of the biggest drivers he's noted in the adoption of disc brakes, and Lo Priore says that has certainly been a welcome – if unintended – benefit.
In big picture math, a few thousand dollars up-charge on the dealership lot could be a giant savings in disguise, especially if you're on a first-name basis with CSA inspectors.