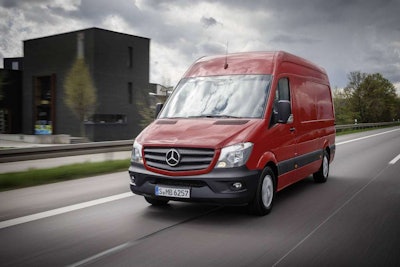 Mercedes-Benz Vans unveiled Wednesday a heavier addition to its Class 3 Sprinter. Set to be available in Europe later this year, Mercedes-Benz officials said there were no confirmed plans for the U.S. market yet, adding "but certainly not ruled out."
The heaviest Sprinter to-date – billed as Sprinter 314 CDI in Europe – features a 12,100 GVWR, a boost of about 1,000 pounds from the former Sprinter 3500 upper limit of 11,030. In comparison to the previous top-of-the-range model, the heavy-duty Sprinter offers a nearly 1,000 pound increase in load capacity, resulting in a total payload of between 6,500 pounds and 7,500 pounds, depending on the model.
Considering Mercedes' four-wheel drive Sprinter and Metris were each brought stateside recently following European launches, it's not beyond reason to expect Sprinter to offer the heavier Class 3 van in the coming model years.