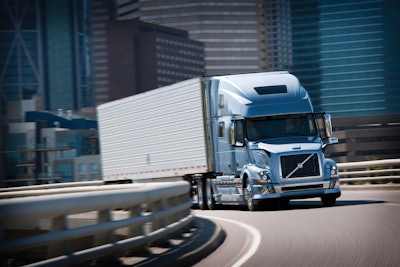 Following a personal best U.S. market share in 2015, Volvo Trucks says it wants to continue to achieve growth in the North American market in the coming years and to continue its push for greater I-Shift automated-manual transmission take rates among new truck orders.
In an industry update spanning a wide range of topics Wednesday, May 11, at the company's New River Valley truck manufacturing plant in Dublin, Va., Volvo Trucks global boss, Claes Nilsson, and North American head Göran Nyberg said 88 percent of new Volvo truck orders in 2015 were spec'd with the company's I-Shift automated transmission. That feat comes less than 10 years after the company introduced the transmission to the North American market in 2007.
The take rate of its I-Shift AMT also coincides with another accomplishment the truck maker announced earlier this year: A record 12.4 percent retail market share. And though truck orders industry wide were "soft" in the first few months of 2016, the industry should still see net orders of roughly 250,000 in 2016, the pair said, following 2015's record showing.
"We really want to be a technology leader," said Nilsson. "We have launched a number of features over the years which have been technology leading. Right now we are very much focusing on some interesting areas of technology like platooning and autonomous vehicles. Of course we are continuing to work with alternative drive lines and [alternative fuels]."
Connectivity, predictive maintenance
Volvo says the next technological step for truck makers and carriers themselves, as end users, is enhanced connectivity and reaping the maintenance benefits it offers. Nyberg pointed to the company's Uptime Center and its Certified Uptime network — certified dealers, essentially — as major steps already taken in that direction.
The company is now working toward greater connectivity and proactive prognostication of potential maintenance problems. Volvo wants "to predict and prevent" breakdowns before they happen, Nyberg says. "And when they do happen, we proactively attend to that event," he said. "Communication is key. Trucks will break down in the future, but [the challenge is] how efficiently we will be to maximize uptime."
"Uptime combined with a fuel efficient truck, from a financial aspect, is the key ingredient for success going forward," he said.
Phase II emissions standards
Though Nilsson and Nyberg touted the company's recent successes, the industry still faces a quickly approaching challenge, they said: Meeting the next phase of emissions and fuel economy standards outlined by Congress and regulators in recent years.
Phase II standards take effect as early as next year, for 2018 year-model trailers. Though the trucks-specific portions of the new standards take hold a little later, 2021, truck OEs have already begun preparing to meet the new regulations. This time around, Nyberg said, the industry hopes to avoid a pre-buy like that seen before 2007 emissions standards took effect.
Volvo is working with lawmakers and regulators at all levels, Nyberg said, regarding the implementation of the new fuel economy and emissions standards. "We want to make sure we can address the challenges [to achieve] the benefits they want to see out of the new legislation," he said. "And to make sure we do that with a good approach so we get industry acceptance for the new technology."
The company couldn't say what technology or aerodynamic-related changes, if any, may come from the government-initiated demands for better fuel economy, but Nyberg said any changes with this phase of emissions regulations should also be in line with carriers' interests regarding fuel economy and fleet efficiency.
Platooning
Volvo announced just over a year ago its interests in truck platooning technology, making an investment in Peloton Technology. Peloton introduced its platooning system in late 2014, and Volvo said it hopes to demonstrate its own platooning development soon, possibly even next month in a track demonstration in the San Jose, Calif., area — the technology hub of Silicon Valley.
Nilsson says though the technology to develop automated platoon-ready trucks is just years away, if not already available, the challenge lies in bringing legislators on board and infrastructure up to speed. "I think it's going to take quite a long time" to do so, he said. "We have a product we are actively working with. I don't think the technology is that far away, but it will be up to the legal agenda to decide on how and at what pace we will be able to introduce this new technology."