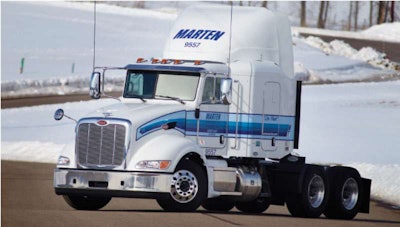 A Kansas jury has awarded Marten Transport $3.25 million in damages following its suit against an advertising company over trademark infringement, unfair competition and more.
Marten brought a lawsuit against Plattform Advertising, a business that Marten at one time used to market open trucking jobs online, for using Marten's name and trademarks after Marten had stopped using Plattform's services. Marten also sent a cease and desist letter in 2013.
The Wisconsin-based trucking company used Plattform's various websites to advertise open truck driver positions for several years, where it paid a monthly fee to do so, then received applications through the websites. Once Marten ended its relationship with Plattform, the company no longer had permission to use Marten's name or logos.
Despite being notified to not use Marten's trademarks, Plattform continued to use them. The Kansas jury agreed that Plattform had damaged Marten economically through its trademarks violations. Presiding Judge John W. Lungstrom immediately reduced the award by $750,000 to $2.5 million, but Marten and Plattform will present motions to the court in the next few weeks regarding the remainder of the verdict.