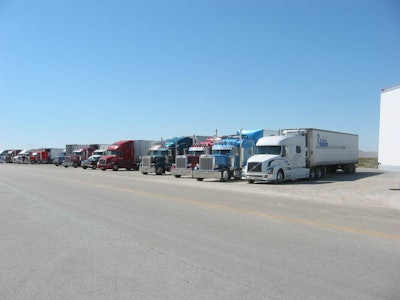 Equipment utilization in the U.S. truck fleet was down for the second consecutive quarter, according to CK Commercial Vehicle Research's quarterly Fleet Sentiment Report, results of which were released this week.
The report, a summary of an April survey in which 47 fleets accounting for 37,000 power units and 91,000 trailers responded, showed equipment utilization for power units at 90 percent and trailer utilization at 83 percent. These numbers are down a couple percentage points each from the first quarter of the 2016 fiscal year.
Chris Kemmer, president of CK Commercial Vehicle Research, presented the findings of the report and said the drop in utilization is "not a bad situation. …It's in a decent range, but it's not growing."
Responding fleets also said their parked units, both power and trailer, were up in the second quarter to around 6 percent each, an increase from 5 percent in the first quarter. Parked units have been increasing since 2015's fourth quarter when both were below 2 percent. Kemmer said a similar trend in parked vehicles was seen in 2009 and 2010, which was reflective of the declining market.
Approximately 55 percent of responding fleets said a driver shortage is affecting their fleets currently and is limiting their ability to add capacity.
The report indicated that CK Commercial Vehicle Research's business index dropped below 4.0 for the first time since the fourth quarter of 2014, but Kemmer said it's not a significant drop.
"The rating is down below 4.0 on a 1-to-5 scale, so a 3.9 isn't terrible," she said. "It's not bad, but it's not getting better. There's nothing urgent at the moment."
Kemmer noted in the report that most fleets have enough equipment currently to meet their capacity.
Of the 47 fleets that responded to the survey, 26 percent operate more than 1,000 medium- and heavy-duty units, 52 percent operate 100-999 units, and 22 percent operate less than 100 units.