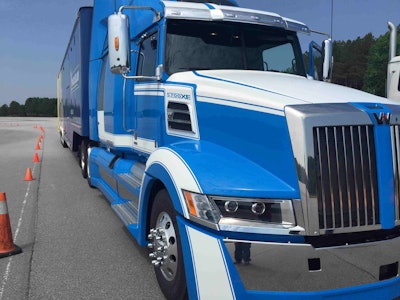 If truck makers were to pick a year to charge forward in marketshare, very few would likely put 2016 at the top of their list.
But even with the the oil and gas market near stagnant, Western Star is poised to grow its North American market share substantially this year.
Western Star boss Kelley Platt says her company will sell this year twice as many trucks than 2010, with 65 percent of the company's sales coming from the U.S.
Year-to-date, North American market share is up to 3 percent, up from 2.6 percent through the same time last year and up more than a full point from 2010 thanks to, Platt says, a growing dealer base and versatile product line.
Western Star has pinned many of its over-the-road hopes to its 5700XE, the company's first aerodynamic highway truck.
Mike Guarino, on-highway and municipal segment manager with Western Star, notes the company was the last OEM to the table with an aero model but trails only big sister Freightliner's Cascadia in terms of efficiency. Platt says dealers have 100 Detroit-powered demo units in the field and at least one test fleet has passed 7.8 mpg.
Much of the delay in launch was in the design challenges. Guarino says engineers were careful to steer clear of the "jelly bean" shape common on many aero units. Western Star wanted to preserve its rigid look, while still being able to offer efficiency upgrades.
"It still needed to look like a Western Star," he says. "That was important."
Customers have taken note. Platt says many of the drivers drawn to the 5700XE haven't traditionally been Western Star customers in the past.
"They are looking for an aerodynamic truck, and they're drawn to the look [of the 5700XE]," she says. "It's cool-looking. It's something unique."