CCJ's Indicators rounds up the latest reports on trucking business indicators on rates, freight, equipment, the economy and more.
---
Spot market takes seasonal dip in April: Total freight volume on the spot market fell 3.4 percent in April from March, according to the monthly DAT Freight Index. Though perhaps more concerning for the industry is the year over year dip from last April: DAT's index shows a 30 percent drop in freight availability from the same month last year.
DAT cites lower demand for for-hire trucking services on the spot market, with demand for van sliding 38 percent, demand for reefer falling 34 percent and demand for flatbed declining 22 percent from the same month last year.
Likewise, rates followed suit year over year. Van rates were down 16 percent compared to last April, while reefer and flatbed were down 12 percent and 8 percent, respectively.
Compared to March 2016, van rates in April declined 1.5 percent, reefer rates fell 0.6 percent and flatbed rates rose 1.2 percent.
---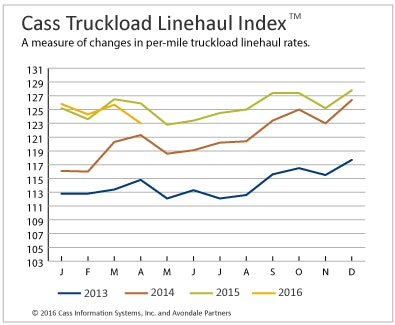 Cass also reports declining linehaul rates: Cass' monthly Truckload Linehaul Index also declined 2.3 percent compared to last April. Cass cites Avondale Partners as predicting linehaul rate decreases for the year of about 1 to 2 percent. The key factor is the industry's excess capacity, says Avondale, brought on by driver pay increases, overall fleet growth, fewer carrier bankruptcies and regulatory relief in the form of 2014's "restart rollback."
---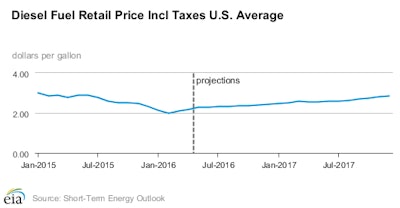 Diesel in U.S. projected to stay below $3 through 2017: The price for a gallon of on-highway diesel in the U.S. is projected to average $2.27 this year and climb to $2.64 next year, according to the latest edition of the Department of Energy's Short Term Energy Outlook.
Diesel prices plummeted last year, falling below $3 and then sinking below $2 for the first time in nearly a decade.