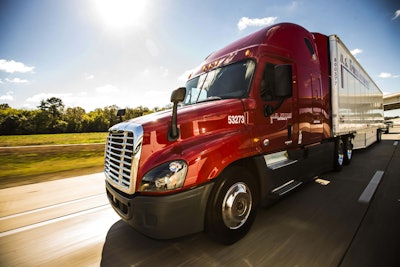 U.S. Xpress, Inc., the nation's second largest privately owned truckload carrier, is now spec'ing Bendix ADB22X air disc brakes on the steer axles of more than 2,800 tractors, including vehicles manufactured by Freightliner, International, Kenworth, and Peterbilt.
Delivery began last year and continues in 2016.
Gerald Mead, senior vice president of maintenance for U.S. Xpress, Inc., says the decision to spec disc brakes aligned with the company's mission to be an industry leader in safety.
"This means the brakes we choose must meet an exceptionally high standard for safety – as well as for performance and value," he says. "Bendix air disc brakes help us repay the trust and confidence our customers and drivers place in us."
The Bendix ADB22X air disc brake offers straight, stable stops along with greater reliability due to virtually no brake fade or degradation of stopping power. Uptime benefits of the technology include longer brake lining life and quicker pad replacement, leading to lower maintenance costs. The internal self-adjustment mechanism can help lower the risk of out-of-adjustment brakes during roadside inspections, which can affect Compliance, Safety, Accountability (CSA) scoring. While routine maintenance is still important with any brake system, air disc brakes – unlike drum brakes – do not require any additional maintenance associated with out-of-adjustment brakes.
BSFB began producing the Bendix ADB22X air disc brake in 2005 – a first for the North American marketplace. Continually investing in resources to advance, manufacture, and support air disc braking systems, in 2016, BSFB will exceed the 1.5 million-unit production mark. The brake is 100 percent North American manufactured and assembled.