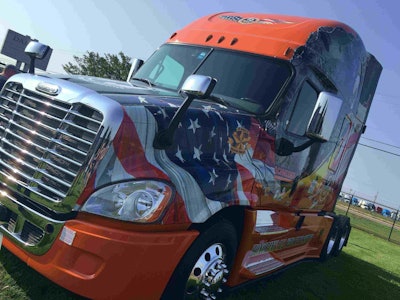 Schneider (No. 8 on the CCJ Top 250) has received Freightliner's Ride of Pride military tribute truck for the 10th time.
This year's tractor features historical images representing all U.S. conflicts from World War II through the present. It showcases black and white imagery of a beach invasion on D-Day, a helicopter landing in Vietnam and a patrol in the mountains of Afghanistan. Additionally, it features an American flag and a bald eagle, along with the words "Honoring all who have served." The hood pays tribute to prisoners of war and those missing in action.
Schneider driver Jon Ritscher of Crown City, Ohio, was selected by the company to drive this year's Ride of Pride. Ritscher has driven with Schneider since July 2013 in the Van Truckload NE Regional division. He spent eight years in the U.S. Army as a petroleum supply specialist and used his GI Bill to earn his commercial driver's license.
The truck is a 2017 Cascadia Evolution with a Detroit DD15. Schneider says this year's truck will spend the next 12 months traveling to various military-themed events before joining Schneider's fleet to primarily haul freight.