CCJ's Indicators rounds up the latest reports on trucking business indicators on rates, freight, equipment, the economy and more.
---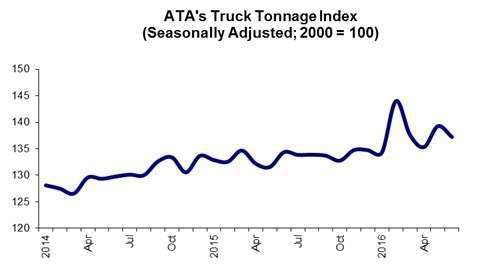 Tonnage falls in June: The amount of freight moved by the for-hire trucking industry, as measured by ATA's monthly Truck Tonnage Index, fell 1.5 percent in June, according to data released by ATA July 19.
Tonnage has fallen three out of the last four months after hitting an all-time high in February. Since, tonnage has fallen 4.7 percent. May was the only month to climb in that time period, posting a solid 2.9 percent gain.
ATA Chief Economist Bob Costello says the he expects freight to remain "choppy" the rest of the year. "We are currently benefiting from the consumer side while being hurt on the industrial side. And of course we still have the inventory glut that is weighing down tonnage," he said.
Compared to June 2015, the index was up 2.1 percent. Year to date compared to 2015, tonnage is up 3.7 percent, ATA says. Excluding February's record, tonnage is still up 2.7 percent year to date.
---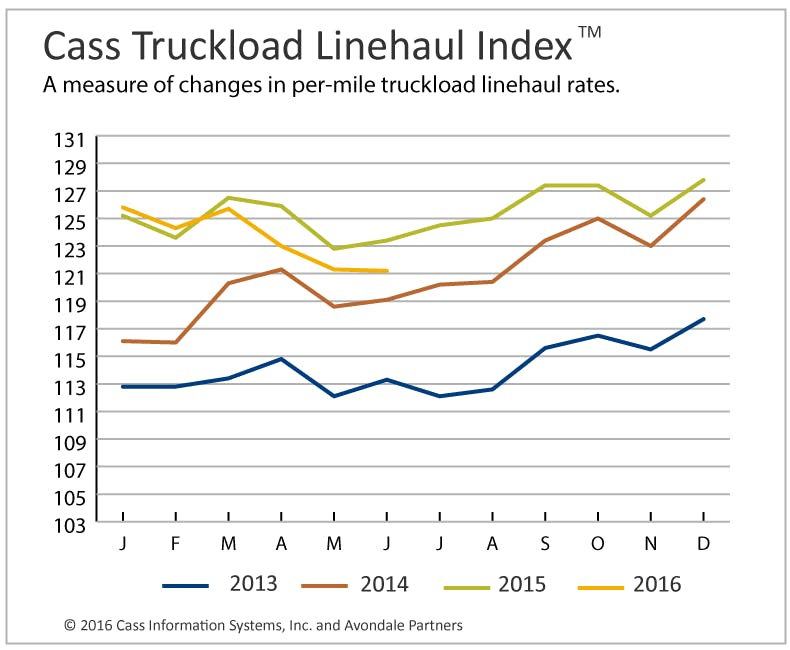 Linehaul rates also down in June: Truckload linehaul rates also fell in June, according to Cass information Systems. Compared to June 2015, per-mile linehaul rates were down 1.8 percent, building on the 2.3 percent and 1.2 percent dips seen in May and April. The trucking industry's excess capacity is the main reason for tumbling rates, Cass says, echoing other reports of late.