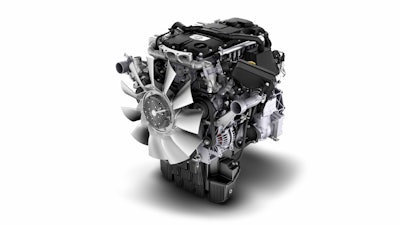 Driving through California wine country, you'll see a melting pot of automotive ingenuity. Teslas sharing the road with six figure Porsches, mixed among Bugatti super cars and – earlier this week – yours truly here motoring alongside them all in Freightliner's M2 106.
Daimler Trucks North America this week announced plans to make its new 5.1 liter DD5 available as an option to pick-up and delivery customers ordering the M2 106. A full rollout for the engine is marked for 2018.
While the M2 106 and its 20-foot box doesn't stack up in all areas to the Teslas and Maseratis that are whizzing past me, those cars weren't loaded to a 24,000 pound GVW.
As the drive kicked off from the staging area and we headed into the heart of Napa, Calif., it's worth mentioning that the truck's 50-plus degree turning radius is pretty amazing. That's a large truck to sport that kind of maneuverability.
Our first challenge came early: Merging a four cylinder Class 6 truck loaded to near capacity onto the highway. With the gas pedal pinned firmly to the floor, the climb up the ramp was fluid and uneventful, as was the merge. There was a lot more power available on demand than I expected going through the Allison 6-speed transmission.
A dash-mounted two-stage engine brake toggle switch (high and low setting) provided impressive support to the service brakes when called upon. On the high setting, it provided ample power at highway speeds.
Cabin noise was minimal. You might expect such from a four cylinder, but attributing the quietness just to the size of displacement discounts all the Detroit ingenuity that went into ensuring a low-volume ride. There is a slight uptick while idling at stoplights, but that is expected. However, you could still easily have a conversation in a normal voice.
On the crowded roads and highway, I felt the DD5 powertrain provided me with everything needed for the job in a pick up and delivery, stop-and-go, setting – ample and nimble power for passing, sufficient braking and great urban maneuverability for a large truck.
Kary Schaefer, general manager, marketing and strategy for Daimler Trucks North America, is confident that once the four cylinder hits the highway, buyers will be won over by fuel economy savings coupled with the availability of 230hp and 660 ft-lb. torque.
My four cylinder tester had the same horsepower rating and 140 ft. lb. more torque than Hino's 8 liter Class 6 standard engine, and it stacks up well with the Cummins ISB – the very engine the DD5 will fight head-to-head in Freightliner's order book.
I think Schaefer is right. With a 3-plus percent improvement in fuel economy over its six cylindered competitors, the DD5 makes a strong case for dropping a couple pistons under the hood and saving a couple bucks at the pump. Customers initially put off at the prospect of driving a "four banger" will likely be won over following a test drive, even if its not through 45,000 acres of grapes.