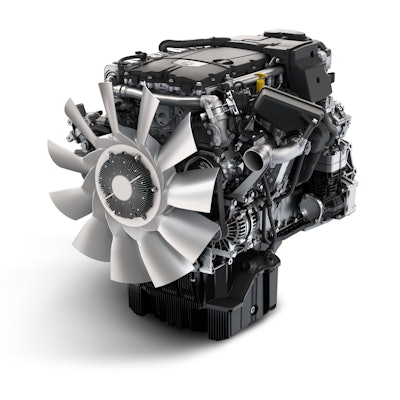 Detroit, at the Work Truck Show in Indianapolis Wednesday, unveiled its new DD8 medium-duty engine.
The vocational 7.7 liter in-line six-cylinder diesel engine boasts a range of 260 hp to 350 hp and a torque range of 660 to 1050 lb. ft.
The DD8 expands the medium-duty engine platform Detroit debuted last year with the launch of the DD5, and Kary Schaefer, general manager of marketing and strategy for Daimler Trucks North America, says both the DD5 and DD8 will lead the industry in up-time and fuel efficiency.
"With these advantages, as well as Virtual Technician, we are providing our customers a smart business solution," she says. "We are confident that our customers will Demand Detroit in the medium-duty market just as they have in the heavy duty market."
Initially be available in Freightliner M2106, 108SD and 114SD models, expanded availability is expected for Thomas Built Buses and Freightliner Custom Chassis.
Vehicles equipped with the DD8 will also feature Detroit Connect Virtual Technician remote diagnostic service. Virtual Technician helps fleets make maintenance decisions. In the case that a vehicle does need to go into the shop, Virtual Technician, with the backing of the Detroit Customer Support Center, provides access to in-depth information to get the vehicle repaired as accurately and quickly as possible, improving uptime.
Production of the DD8 is set to begin next February, and the engine targets a wide range of vocational applications including, utility/maintenance/repair service, pick-up and delivery, oil field, construction, logging, plow and dump, wrecking, refuse, fire/emergency and recreational vehicles.