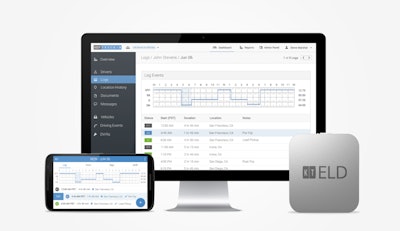 Smartphone app-based electronic logging device provider KeepTruckin has announced its ELD system has been added to the Federal Motor Carrier Safety Administration's self-ceritifcation ELD registry, meaning the KeepTruckin ELD meets the device requirements spelled out in the DOT's ELD mandate, the company says.
KeepTruckin says it's the first ELD provider to be certified in FMCSA's registry with a product "that you can actually buy today," says KeepTruckin's CEO, Shoaib Makani. "This has been two years in the making. We have satisfied every single requirement of the regulation," Makani says.
Should the ELD mandate survive an ongoing court challenge, nearly all drivers currently required to keep records of duty status will need to use an ELD to track hours of service compliance starting in mid-December 2017.
The KeepTruckin app is a free logbook app. But it also offers an engine-connected system that brings the app into compliance with the mandate's requirements. KeepTruckin charges $20 a month for its compliant ELD service. It also offers a robust platform for $30 a month.
CCJ sister site Overdrive details more on KeepTruckin and its certification at this link.